Brian Bolland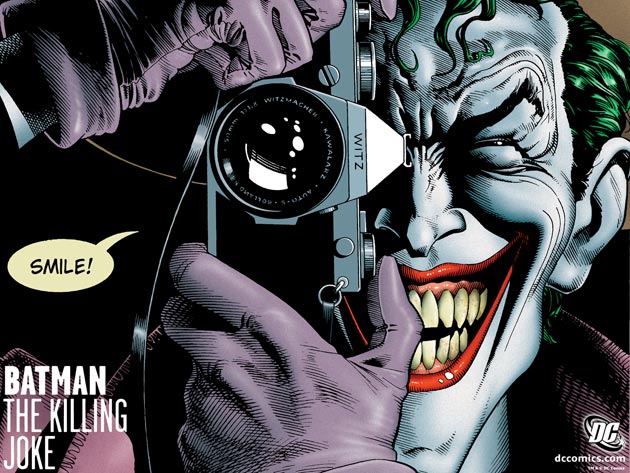 We nipped along to Central Saint Martins yesterday to catch a free lunchtime talk by the utterly wonderful Brian Bolland, one of the finest comic book artists in the world, and officially a Very Nice Guy. He created the sublime The Killing Joke (above, written by Alan Moore, the guy behind Watchmen, V for Vendetta and a host of other classics), as well as being one of the principal artists on 2000AD, particularly on Judge Dredd, and doing extensive work for DC on Animal Man, Wonder Woman, The Green Lantern and The Invisibles.
Bolland was talking about work from right across his career, and showed early draft work as well as finished pieces. He did a postgrad graphics course at Central Saint Martins in 1974, having previously studied at Leicester School of Art and Norwich School of Art; and had spent his early career working out of his room at 110 Southampton Row, just yards from where the talk was taking place.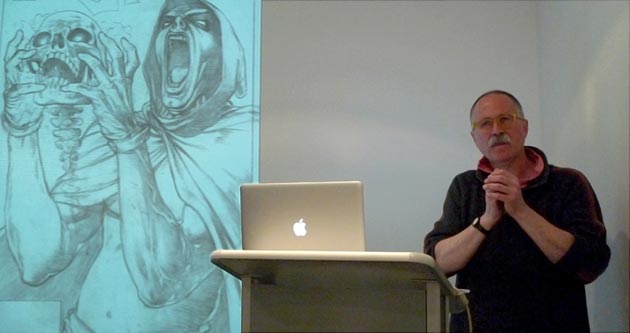 He's best known for his beautifully controlled pen and ink work, though he now works entirely in Photoshop, using a Wacom tablet and pen. Check out his site for some really in-depth (and entertaining) step by step tutorials showing his working process, as well as a huge gallery of work.
Bolland stressed the importance of life drawing, having spent at least one day a week on it at college. It was sobering to hear the silence when he asked who in the room (which largely consisted of illustration students) was doing life drawing.
You can see more of his work in the book The Art of Brian Bolland. Lovely stuff.