Andrew Diprose on The Best Bike in the World
~ While Alistair is away cycling the length of Great Britain, we've invited twenty disgustingly talented people to each write a post for our blog. Today's post is from the very lovely Andrew Diprose, Art Director of Wired Magazine and of sumptuous cycling periodical The Ride Journal. ~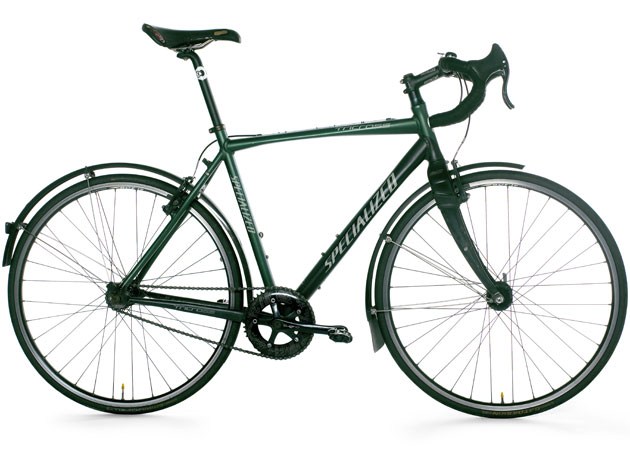 The 'Best Bike In The World' might be the one pictured above. Don't laugh. If you're wondering, this is my brother's bike, a modest 2009 Specialized Tri-cross Singlespeed.
1988 and my brother and I started riding bikes 'seriously'. My grandad had passed away and as it was with part of our inheritance that my dad treated us to a pair of mountain bikes, matching Raleigh Magnums. From there a string of bikes followed, mirroring our ascending enthusiasm, commitment to the sport and take-home pay. The Magnums went the way of hardcore rave and Timmy Mallett but the continued obsession with new bikes has never waned.
I often get asked to recommend 'The World's Best Bike' or 'coolest hand-built bike' to glossy magazines. My sad cycle-based obsession obviously precedes me.
As anyone who is into their riding would agree, this is a question fraught with problems… Best bike for what? Best bike for whom? Best bike for when, and where?
As I'm trawling through the 'nichest' hand-built bike web galleries and skimming rider review sites, chained to a lamppost in the darkest recesses of my mind is my brother's scruffy bike.
A few years ago just like the Raleighs, we got matching 'his and his' Tri-Crosses. (This, sadly, 21 years since the last matching bikes – nothing changes with the Diprose brothers).
My bike?
Well, I soon came to detest the metallic Green Goblin paint and had the whole thing resprayed at probably half the price I paid for the whole bike.
The ride? Always a bit too short in the top-tube, a bit too upright, a bit too light at the front-end on climbs… The list of small niggles was endless. Everything I did to correct the handling, the bike seemed to buck against it. Eventually I chalked it up to experience took the parts off the frame and stashed it up in the loft.
My brother's bike?
He loved it.
Soon as his tush touched that saddle he looked comfortable, his gibbon-like arms falling comfortably on the brake-hoods, a grin sweeping across his face. As I wrestled with my beast, he swooped and chuckled. As I swapped out stems and bars, he wore out brakes and bottom-brackets.
He's got plenty of other flashier, cleaner and more expensive steeds; in fact I think they all are. This bike though fits him best. I'd suggest it fits better than his made-to-measure road bike.
I'd go so far as to argue that, for my brother, THIS is Best Bike In The World.
Many of us spend our time and money searching for The Best, whatever that is. Whether it's That Shoe, That Chair, That House, we're relentlessly ticking off 'must-haves' and clichéd popular design classics. When do we reappraise those objects we use everyday? Often the design heroes of our lives already surround us, they're just unhyped and underappreciated.
If only they didn't have metallic green paint.
~ Alistair is raising money for Cancer Research UK during his ride - please wander over to his Just Giving page and donate a little cash. ~
posted: 7 September 2011
categories:
Bikes