Letterpress workshops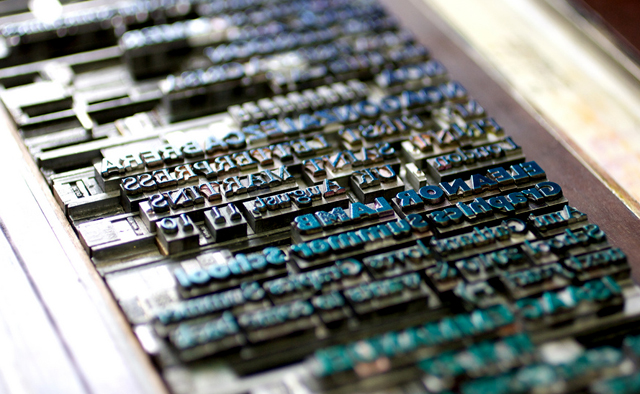 'With twenty-six soldiers of lead, I will conquer the world' - a rather bold and beautiful statement we came across on a print from the Gregynog Press a few years back.
The soldiers of lead of course are the pieces of metal type used in letterpress printing. Movable metal type was invented by Johannes Gutenburg around 1450, and it's been with us in one form or another ever since. Phototypesetting knocked it for six around the middle of the last century, and then desktop publishing on the Mac and PC did the same again from the 1980s onwards.
While digital type has a flexibility and speed that old Johannes could only have dreamt of, the physical reality of woodblock letters and metal type can't be beaten. It forces you to think in a different way, to work creatively with the physical parameters of the type. And perhaps more importantly, it's just a huge pleasure to be working with with bits of type rather than bytes of information. It even smells good.
With that in mind, we've been looking into the various letterpress courses that are available in London at the moment, and we thought we'd share a few of them with you here:
New North Press, just off Hoxton Square, is running a series of one and two day introductory workshops over the next couple of months.
The godfather of letterpress in the UK, Alan Kitching, still has a few places on his two-day courses at the Typography Workshop. Our studio buddy David Pearson went on one of these, and had many fine words to say about it.
Over at the St Bride Foundation, just off Fleet Street, they're running a variety of short courses for all levels of experience.
With all that to choose from, soon we'll all be conquering worlds...

UPDATE - David and Elizabeth at Counterpress got in touch to recommend Mr Smith's Letterpress Workshop in Kennington. Thanks folks! If you have any recommendations of your own, drop them in the comments section below.