On yer Barclays bike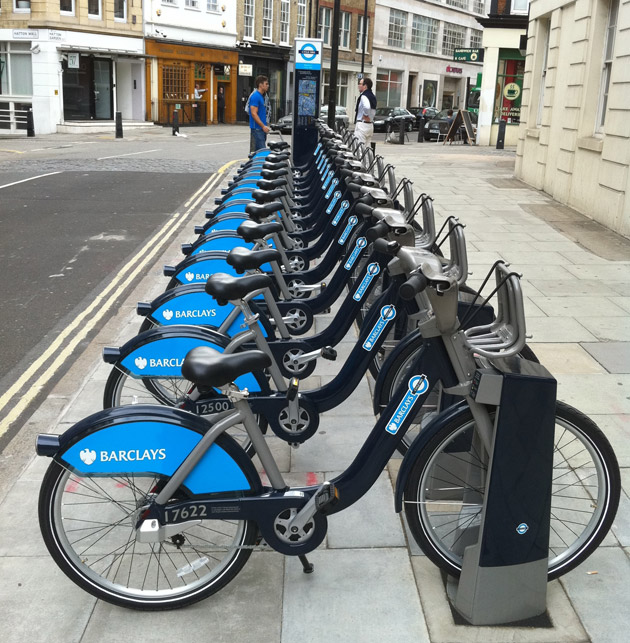 So, the much heralded Cycle Hire Scheme bikes have finally docked, and the city's streets were awash this morning with bloggers, journalists and twitterers (and a few actual commuters) giving them the once over. The general consensus seems to be that they're well built and easy to ride; that there have been some inevitable teething troubles with the docking stations; and that the absence of a lock and a proper basket is a mistake.
Over at The Guardian, Justin McGuirk has accused the city's mayor, Boris Johnson, of selling out by allowing Barclays to plaster their branding all over the bikes, as well as all over the Cycle Superhighways, the first of which have also just launched.
Our first thought was, woah, yep, the bikes suffer from having a corporate brand all over them, making them feel like some sort of private company bike fleet rather than actual public transport. How much more elegant would it be if they were simply branded as London Bikes?
They feel like yet another part of the incessant corporatisation of our city, joining the O2 Brixton Academy, the HMV Hammersmith Apollo, Arsenal's Emirates Stadium and so on. We get that companies want maximum exposure for their sponsorship dollar... but a little subtlety and humility could go a very long way.
On the other hand, this scheme wouldn't exist without external funding. And there's a clean uniformity to having a single sponsor on the bikes, which isn't a bad thing. Imagine each of them with a different advert screaming for your attention. Heck, look at our other forms of transport: the 'iconic' red London bus is pretty much a mobile advertising hoarding, as are most black cabs. And tube trains, though refreshingly minimal on the exterior, are bedecked with adverts on the interior, and travel round a underground system that is saturated with even more advertising.
Besides which, the Barclays brand will only stand out quite so starkly for a brief time - give it a few weeks and those frames and mudguards will have been treated to all manner of stickers and stencils.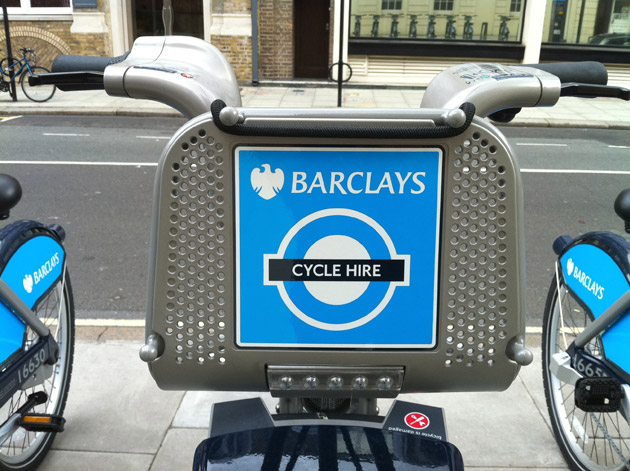 We do think the front panels (above) are a step too far though. They feature the Barclays logo locked up with the new Cycle Hire roundel, which now joins TFL's suite of other public transport roundels (below), but uses the official Barclays blue (100% Cyan as far as we can tell). Letting Barclays get their hands on that means they 'own' not just the bikes, but part of the city's transport infrastructure, which is surely a step too far.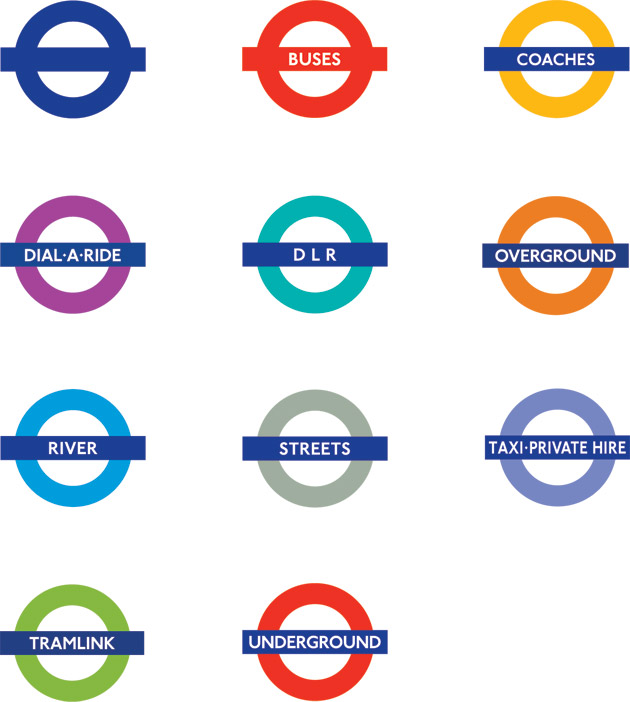 On the whole though, the Cycle Hire scheme feels like a very good thing, and it's going to be interesting to see how it merges into the rest of the city's moving parts. And we very much like the new information posts (part of the growing Legible London scheme) that accompany each docking station, and feature detailed maps of the local area.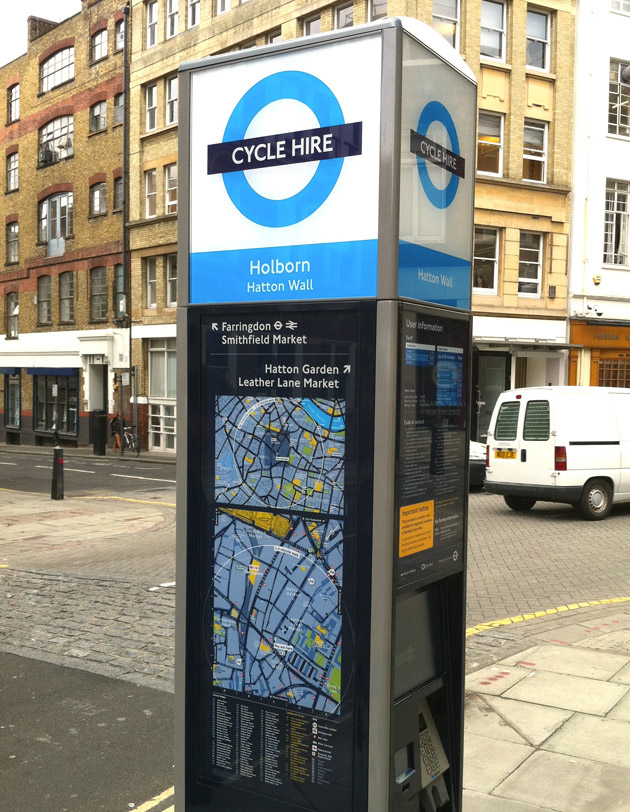 The Cycle Superhighways are an entirely different kettle of fish though. A Superhighway - it sounds like a vast and gloriously uncluttered artery, whisking cyclists through London, unfettered by the fear of becoming roadkill under the wheels of a huge truck. The reality is so very different - it's some blue paint. Yes, a few tricky road junctions have been altered, but basically, it's just some blue paint. And more importantly, some blue paint that means nothing. Absolutely nothing. No new rules have been made to say that other vehicles aren't allowed to drive on it. So as a cyclist, you feel like it's your space, but none of the other road users really give a damn. It's going to lead to a whole heap of full and frank discussions at the roadside...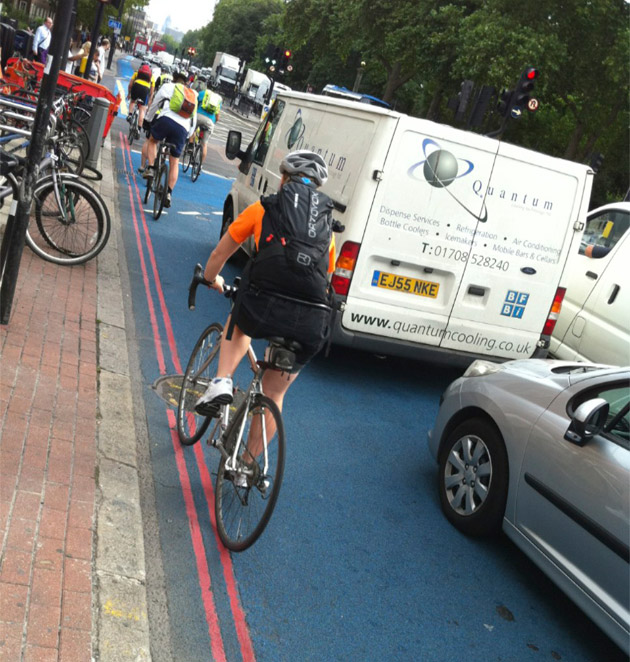 In his article, McGuirk complains that the lane is painted Barclays blue, which means they've bought up the very land beneath our feet. But realistically, it was one of the few primary colours left that hadn't already been used, and refreshingly, there's very little sign of the Barclays branding on the roads themselves. Even the scheme's branding (below left), which features the Barclays logo on leaflets and suchlike, appears untarnished on the information posts (below right).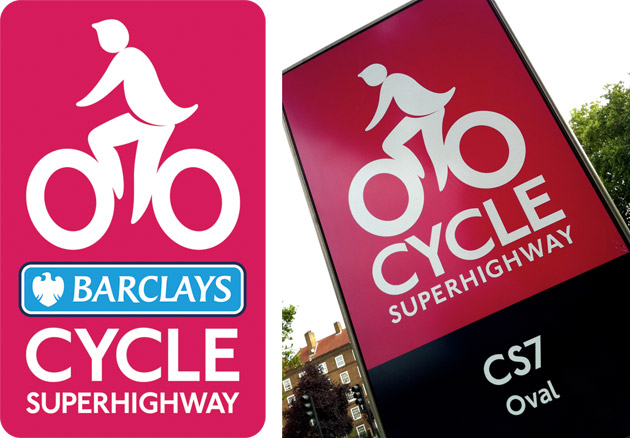 With the Superhighways, we can't help but feel that it's a prime case of mismanaging expectations. It's right up there with the woefully underwhelming River of Fire which we were promised along the Thames on the eve of the new Millennium. The crowds packed the banks of the river that night, full of wide eyed anticipation. They were rewarded with a few fireworks on a barge. If the Superhighways hadn't been oversold with such a grand name, then perhaps we wouldn't feel like we'd been given such a damp squib...