Caroline Roberts on The Elephant and Castle
~ While Alistair is away cycling the length of Great Britain, we've invited twenty disgustingly talented people to each write a post for our blog. Today's post is from one of our neighbours, the wonderful Caroline Roberts, co-editor of Grafik Magazine, and partner at the rather fine Woodbridge & Rees. ~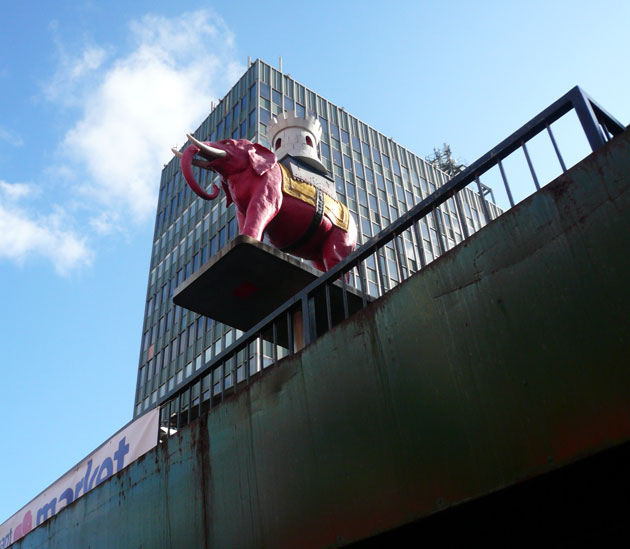 In an attempt to avoid the sweltering experience of traveling on the Underground I recently changed my journey to work, catching the Thameslink overground train from Elephant and Castle station.
The Elephant and Castle is an area I've actively dodged over the years, only stopping off for the odd vist to the now defunct Pizzeria Castello, the Ministry of Sound and LCC. Despite being a mere hop and a skip away from the City and the West End, it's an area that has steadfastly resisted attempts at gentrification. The fumed filled-dual carriageway that rips through its centre, the confusing dual-roundabouts and dingy, disorientating (not to mention dangerous) walkways that pedestrians are forced down make for a totally depressing urban experience, of which no amount of jaunty murals or garish rebranding can alter.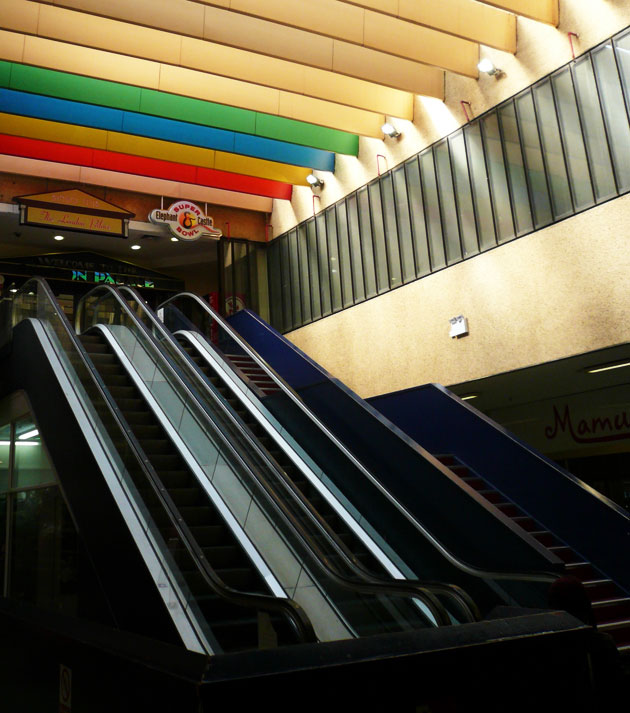 Going to the station involves walking through the middle of the much maligned shopping centre, something I haven't done for years. At 9am it's a decidedly strange experience — there's weird tinkly piped music and an even weirder collection of very multicultural shops including a Polish restaurant, a South American café, a discount shoe store, a shop selling cheap handbags, a pawn brokers and a very forlorn looking estate agent.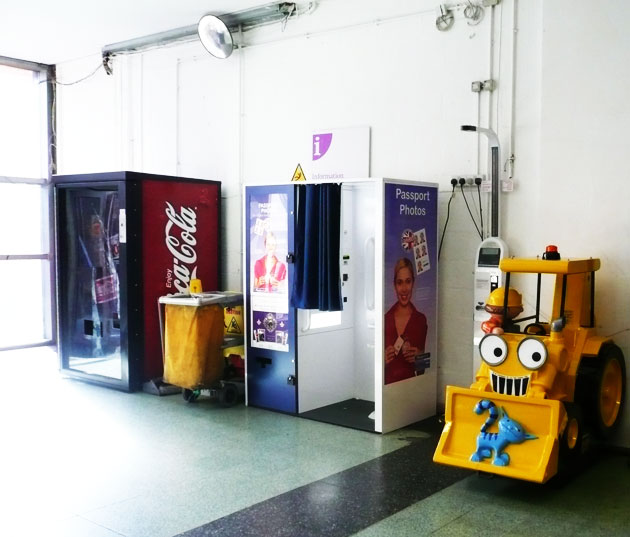 It wasn't always like this — in the 1930s the area was known as "the Piccadilly of South London", home to a department store, a shoe factory and several huge cinemas. The area was badly hit during the war and rebuilt in the 1960s to include a ground-breaking new shopping centre. The first ever covered shopping mall in Europe, it had 120 shops and an underground car park, but in true E&C style, due to some wildly inaccurate financial forecasting, the original plans had to be reduced, budgets were slashed, corners were cut and only twenty-nine shops actually opened.
Things have gone steadily downhill ever since. The large swathes of badly designed social housing that surround it and the problems that brought, coupled with lack of investment over the years meant that the shopping centre has been in a slow but pretty much continual decline. It's hardly a surprise — creating a scheme where traffic is treated with more respect than pedestrians doesn't encourage people to visit an area, and it seems blindingly obvious now (although not at the time apparently) that no-one would want to shop at the Elephant when they can get into the West End in ten minutes.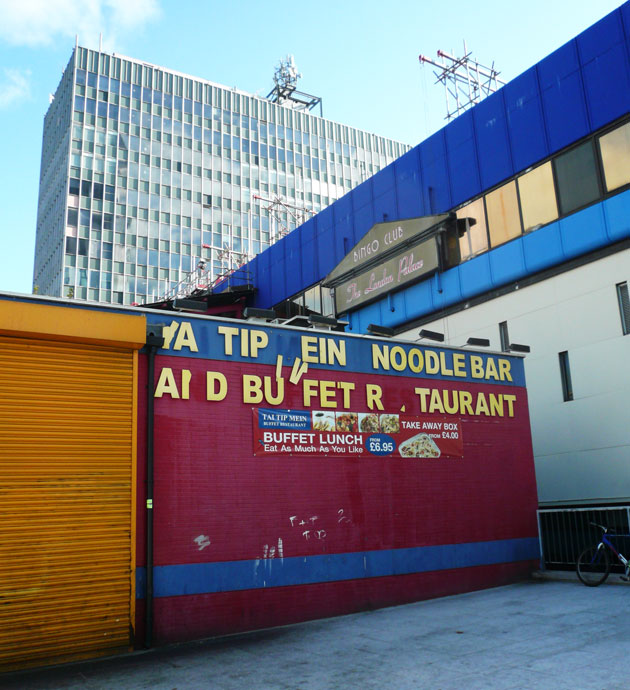 On his site Post War Buildings, Mike Althorpe describes the experience of walking through the shopping centre: "The odd combination of people, languages, noise, smells, bustle, subways, traffic and 1960s architecture is almost Blade Runner-esque. This is not entirely inappropriate. The Elephant and Castle is dystopian. It is an alternative future."
It's been decided that the only solution for the shopping centre is to knock it down and start again from scratch. You can understand why, although I have to say that I've developed a weird fondness for the place. It has a look, sound and smell (of fried food and desperation probably) that's almost otherwordly, and it's about as far from the slick, characterless retail environment of the likes of Westfield as you can get.
It's not clear yet what exactly is in store for the new shopping centre — chances are it'll be pretty bland though. Let's just hope they don't make the same mistakes again. Sad as the shopping centre has become, it seems a shame to demolish it completely, as most of its problems stem from the wider planning choices that were made for the area. It has a sort of crappy charm and an authenticity to it that will be stamped out in the name of 'regeneration'. Like it or loathe it, The Elephant and Castle shopping centre is a London landmark. Maybe not as attractive as Trafalgar Square or Big Ben, but still very much part of the fabric of the city and a timely reminder of what can happen when things go wrong. I wonder what's going to happen to the elephant? Let's hope he's returned to a more dignified greyish colour...
Further reading: The Car and The Elephant
~ Alistair is raising money for Cancer Research UK during his ride - please wander over to his Just Giving page and donate a little cash. ~