Google Maps – now with added bikes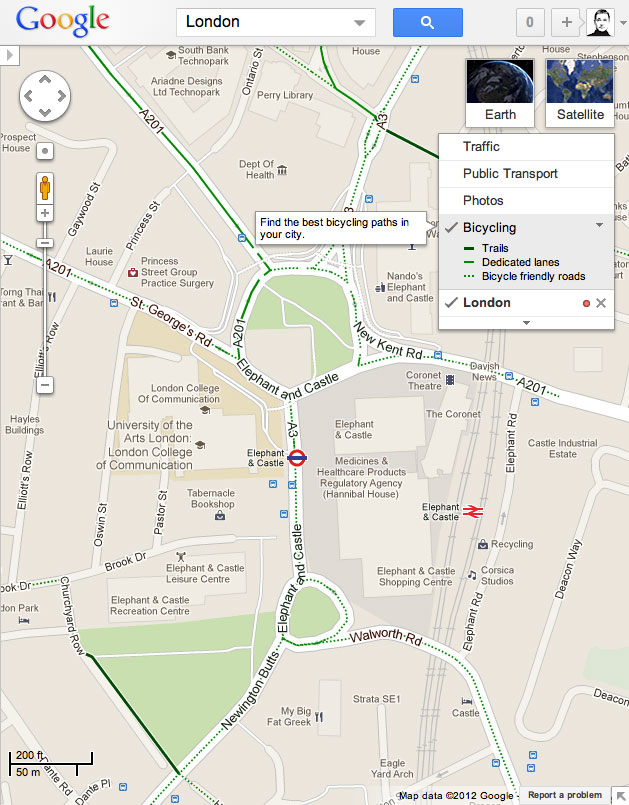 Google, in collaboration with the transport charity Sustrans, has today added cycling routes to its UK maps - showing 'Trails', 'Dedicated lanes', and 'Bicycle friendly roads'.
You can now click on any map to show the available cycle routes, and also ask for turn by turn directions between two places, using what Google considers to be the safest / quietest / flattest route - and it generally offers you several different options.
I just tested this out with my morning ride to work - Google pretty much matched the route I ride, though estimated it at 37 minutes, whereas it usually takes about 25 minutes (and I don't ride that fast).
Worryingly though, the Google route suggested that I go via the Elephant & Castle roundabout, one of the most dangerous junctions in London for cyclists. It's certainly the most direct route, but I actively use a different route in order to avoid the roundabout. I can't quite see how it would be considered a "Bicycle friendly road".
Also, at the moment there's no way of searching for the routes of the National Cycle Network individually, which would seem to be a really useful, if not essential, function.
But it's early days for the service - it'll be interesting to see how it adapts and flexes over time.
Sustrans and Google have also produced a short film to promote the service:
In the meantime, if you're looking for something similar in map land, with route elevations, and options for fastest / quietest / somewhere in the middle routes, try Cyclestreets.net. Otherwise, Sustrans also has a useful, if flawed, app which shows the full National Cycle Network.