A Monster Calls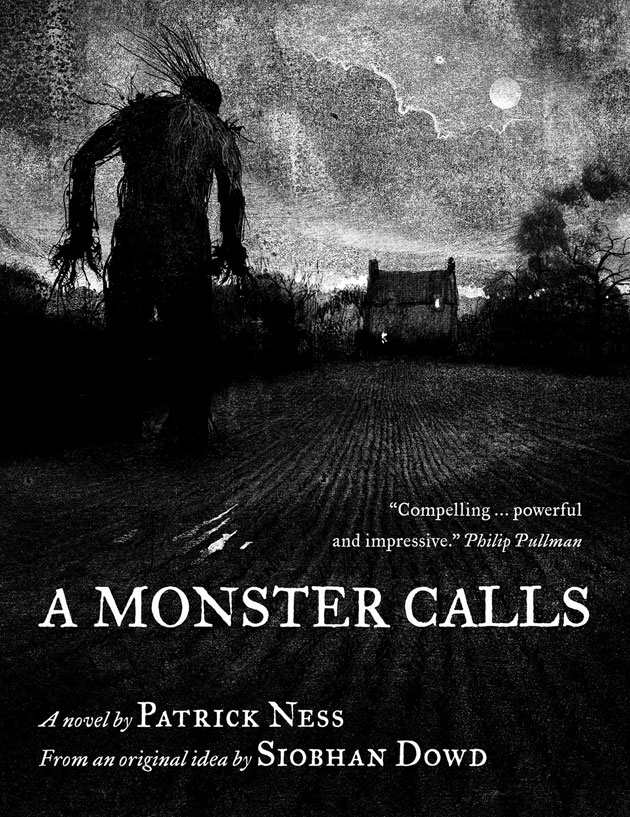 It's not often that a book leaves you sobbing in the darkness. But A Monster Calls
, the staggeringly wonderful book from Patrick Ness, brilliantly illustrated by Jim Kay, does just that.
The book recently won the Carnegie Medal (for the story) and the Kate Greenaway Medal (for the illustrations), a pair of awards that are a big deal in the world of children's publishing; and it was reading about the awards that prompted us to pick up a copy of the book.
The story is about a teenager, Conor O'Malley, who's been having a terrible recurring nightmare, every night since his mother started her treatments.
"Conor looked at the ground, then up a the moon, anywhere but at the monster's eyes. The nightmare feeling was rising in him, turning everything around him to darkness, making everything seem heavy and impossible, like he'd been asked to lift a mountain with his bare hands, and no one would let him leave until he did."
The story was initially developed by the writer Siobhan Dowd before her premature death from breast cancer. Posthumously her editor, Denise Johnstone-Burt, asked Patrick Ness to continue the story for her. As Ness says in the author's note to the book: "She had the characters, a premise, and a beginning. What she didn't have, unfortunately, was time."
Ben Dorland at Walker Books, the publishers, then brought in Jim Kay to illustrate the book. You can read all about how the book then came about in this Guardian article.
Kay's monochromatic illustrations perfectly capture the atmosphere of the book without leading the reader down too specific a path. You can read more about how he created the illustrations on his site. For instance, about the first image below, he says: "Conor, the figure in the foreground, was painted very quickly in ink with a tatty brush - a temporary sketch while I worked on the rest of the image. I must have drawn at least 40 versions of him later on, but ended up using that first sketch as there was something awkward and unsettled about him. Subsequent drawings were just too self conscious. I'd love to have another go at this, I think I could force the perspective more -  get under the chair almost, and beneath the monster's head."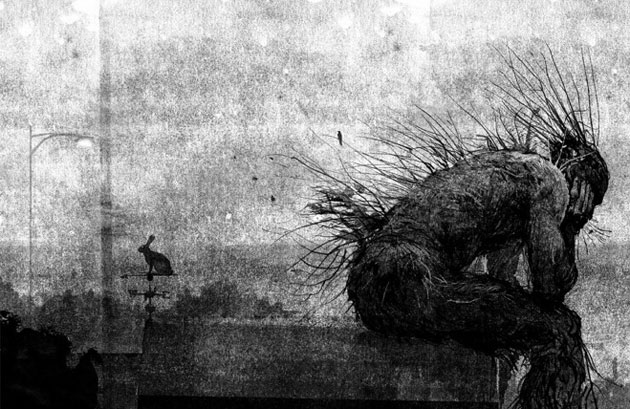 It's an immensely powerful book, and truly beautiful. We can't recommend it enough.