60 years of TV commercials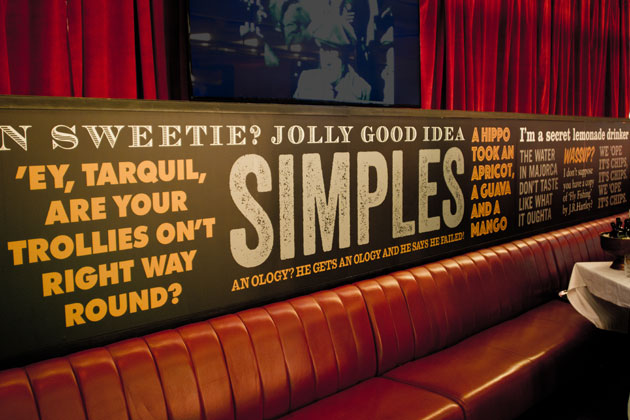 We made our way over to Hixter Bankside yesterday for the annual Clearcast party, for which we'd designed an 8 metre long backdrop.
Clearcast are the clearance service for the TV advertising industry - they review TV commercials at the script stage, checking that they conform to the UK Code of Broadcast Advertising. That way, before production begins, advertisers can make sure their ads aren't harmful, misleading or offensive.
Clearcast asked us to create an eye-catching backdrop to celebrate the recent milestone of 60 years of commercial television. We looked through the archives of the most popular TV adverts, and pulled together a selection of the best bits from the scripts. We then created a huge typographic backdrop, designed to fit onto a glass partition in the venue's main room. (The backdrop was produced by the event organisers, PR Live.)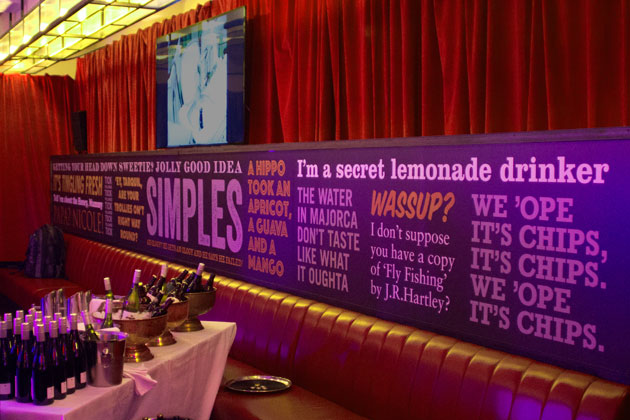 If you click the image below, it should open up the full artwork.

Here are the ads from which those bits of copy come - nostalgia-fest!
Cinzano - with the fantastic Leonard Rossiter and Joan Collins:

Gibbs S.R. Toothpaste - this was the first advert shown on UK television:

Sugar Puffs

Renault Clio

Guinness

Boddingtons

comparethemarket.com

British Telecom

Um Bongo

R Whites Lemonade

Heineken

Budweiser

Yellow Pages

Birdseye Steakhouse Grills

(Going through those ads made us realise that commercials with great dialogue are few and far between these days. We have a feeling that might be because ads are made to work in many different countries now, so dialogue (except in voice-over) is far less common. Or perhaps witty copywriting is just out of fashion? Seems a shame.)
There was also a photo-booth at the party, run by the good chaps from Lots of Little Ideas, and we designed a series of prop-cards for that, featuring taglines from some old adverts - all set with the correct typographic styling.