Catherine Dixon on José Luiz Benicio da Fonseca
~ While Alistair is away cycling the length of Great Britain, we've invited twenty disgustingly talented people to each write a post for our blog. Today's post is from the very lovely Catherine Dixon: a graphic designer, writer, and teacher, who's currently working in Brazil. ~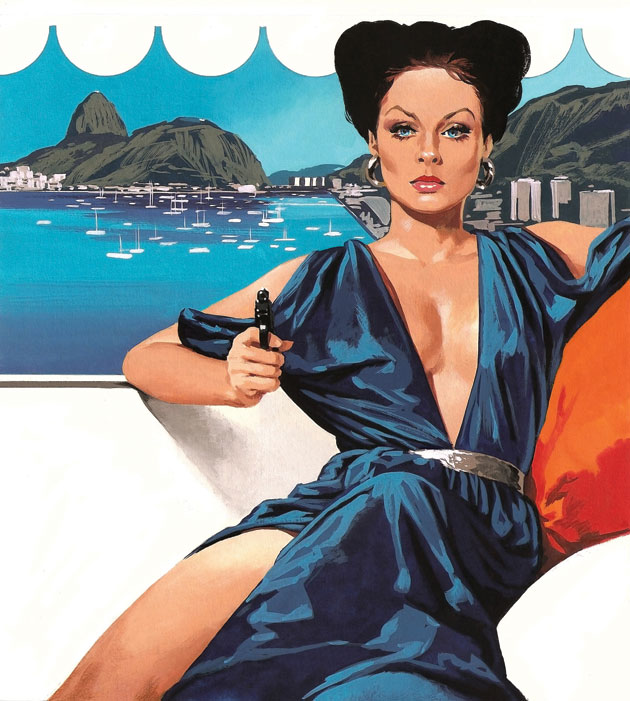 The Brazilian illustrator José Luiz Benicio da Fonseca, or simply Benicio, would be speaking in Rio while I was there. All I knew was his reputation, a career spanning some 60 years, and a sense of the fond regard that many I was working with in the design community in Brazil held him in. So I thought that I should probably go.
Talks from the 'old guys' can be great – insightful, funny (charm being one of the most underrated essential skills of the graphic designer) and generous. And so it was on this occasion. Not that Benicio is just filling in his retirement days remininiscing. Now 75 years old he is still working, and so the evening was as much grounded in discussion of present illustration practice as that of the past.
He is a 'pro'. And he is also prolific. His working output includes some 300 film posters, countless magazine covers, illustrations for books across the market from adult to children's books and from fiction to non-fiction, along with a great many advertising campaigns and even architectural illustration.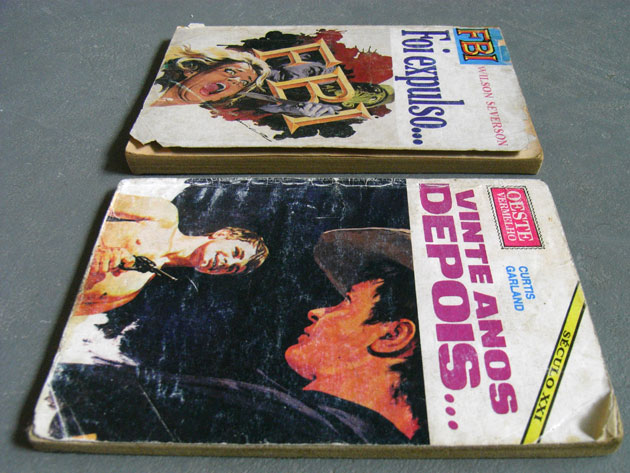 Though the scope of his commissioned work is diverse it is rendered with an incredible consistency due to his unswerving fidelity to the use of gouache. The rich projections of jewel-coloured pieces of artwork showed time and again his old-school mastery of the medium. Clues to the age of the illustrations lay only in the context of use, the shifting fashions of magazine cover layout or the inclusion of digital accessories on the models.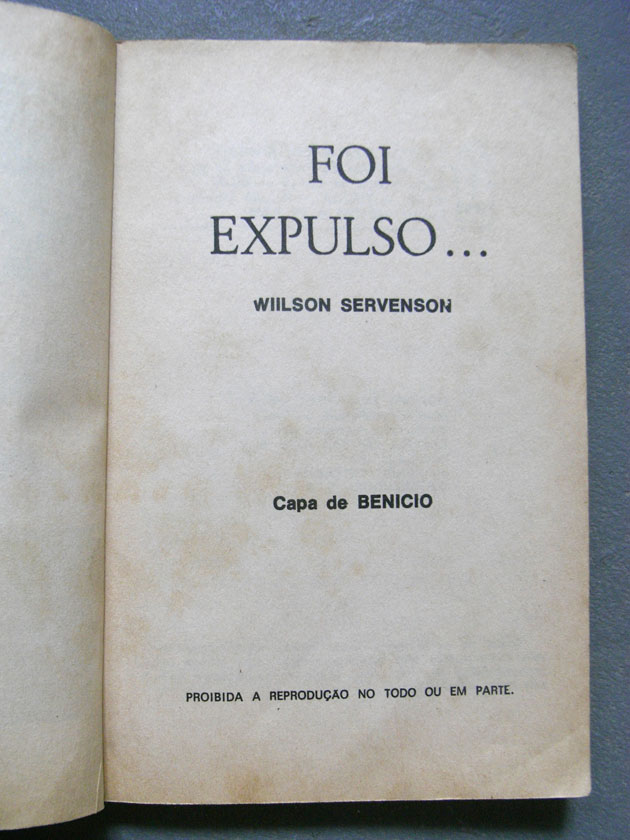 Here's the title page from Foi Expulso - it's not often that the cover designer's name is set at the same type size as the author!
His most famous works are undoubtedly his illustrated pin-ups. From the 1960s he worked for twenty years for the publisher Monterrey on covers for their 'pocket books' – cheap populist fiction titles featuring cowboy heroes, detectives, crime, sex and spies. For them alone he created almost 3000 covers, at times producing up to 22 covers a month in addition to other client work. He described how at a stretch he could produce 4 covers a day, albeit simple ones. This is in part due to his method of drawing from the huge visual library of photography he has built up, stock poses and so on that he can refer to and very quickly begin to build the image needed to match the title synopsis. Though he was careful to articulate the role of 'design' in this illustration process, showing how he would edit back from his references and then elaborate on them in order to tell a very particular story.
Of these titles the most outstanding are generally acknowledged as those for collection ZZ7 featuring perhaps his most iconic character Brigitte Montfort. This work is in many ways deeply unfashionable, though the audience for the talk spanned the generations with many young design students and enthusiasts in the mix. The work is also about as politically incorrect as it gets – poor Brigitte often being in want of some clothes. Yet the audience and discussion afterwards reflected the strength of popularity of Benicio's work to a female audience too.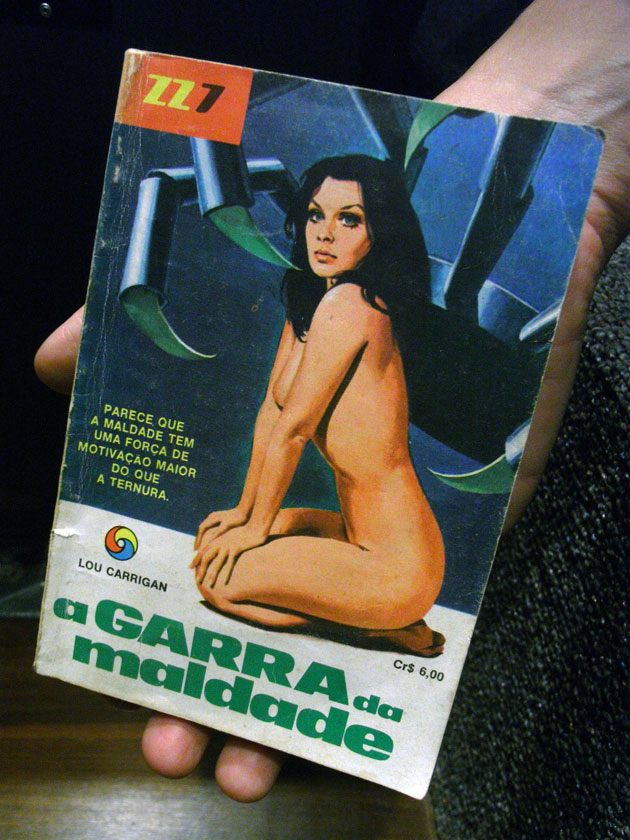 And I find I am also won over. Their irrelevance to me as potential reading material and trashy associations had previously rendered the graphic design of these books invisible. To hear Benicio speak was then something of a visual wake-up call. His jobbing professionalism, the strength of the visual story-telling, the drama (or melodrama) of the covers, the exquisite technique were actually all quite stunning. Get me to a second-hand bookshop in Rio now!
[Benicio was speaking as part of Ciclo Mandacaru de Oficinas de Ilustração at Caixa Cultural Rio de Janeiro – a week of workshops and talks about illustration. Photographs courtesy of Ana Paula Mendes.]
~ Alistair is raising money for Cancer Research UK during his ride - please wander over to his Just Giving page and donate a little cash. ~