Mike Reed on Milward & Sons
~ While Alistair is away cycling the length of Great Britain, we've invited twenty disgustingly talented people to each write a post for our blog. Today we have some fine words from freelance copywriter Mike Reed. ~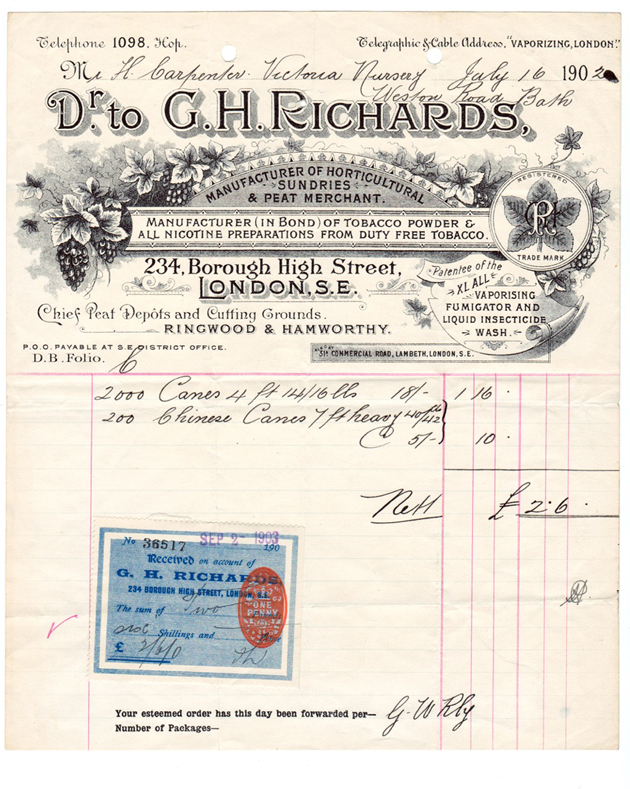 When Alistair invited me to be part of this series, my mind went almost immediately blank. As a writer, my comfort zone tends to be words. What could I offer on what Alistair called 'the very loose topic of "visual culture"'?
So I've kind of cheated.
I remembered some old samples of receipts and bills I'd found in an antique/junk shop in Wincanton, when my parents were living there.
Most of these were impressive visually, and I've shown some here. It's wonderful how ornate these very quotidian bits of paper are: those wildly decorative letterheads.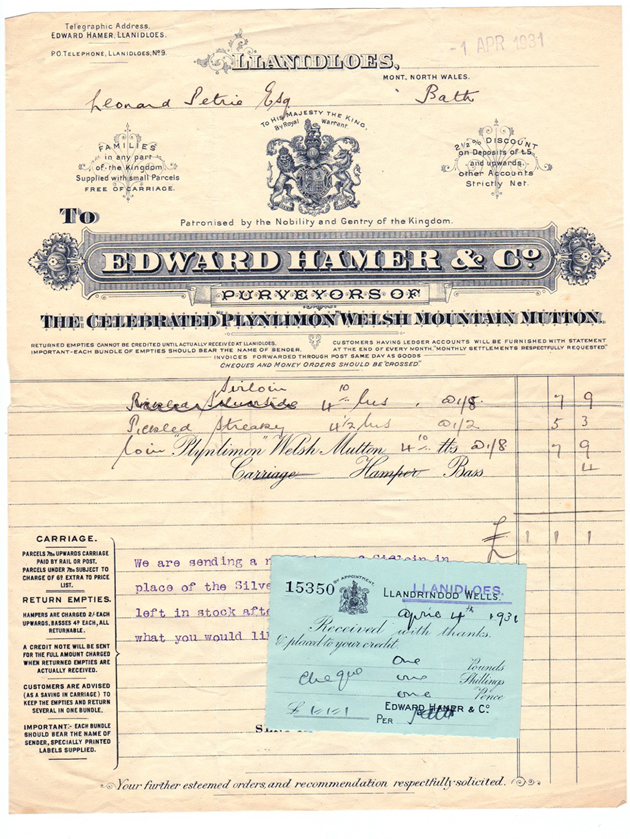 We need more of this sort of thing today, I reckon. Enough with the cool, sharp graphic identities. We need filigree and curlicues and cross-hatched flower arrangements.
Anyway. Among these wildly decorative bits of waste paper, I found this very simple and, to me, charming letter of reference.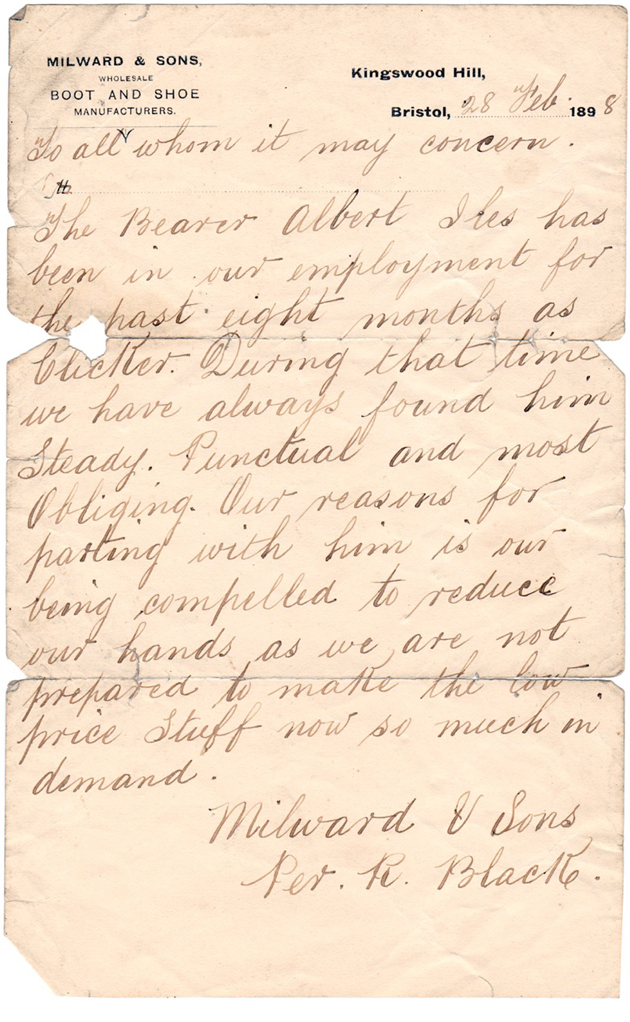 Written in February 1898, by R. Black of Milward & Sons, 'Wholesale Boot and Shoe Manufacturers', it tells a crisp and pithy story, rendered in beautiful copperplate.
In case it's not clear, here's a transcript:
To all whom it may concern

The bearer Albert Iles has been in our employment for the past eight months as Clicker*. During that time we have always found him Steady, Punctual and most Obliging. Our reasons for parting with him is [sic] our being compelled to reduce our hands as we are not prepared to make the low price Stuff now so much in demand.

Milward & Sons
Per. R. Black
(*A Clicker, Wikipedia reveals, 'was the person who cut the uppers for the shoes or boots from a sheet of leather. He was so named after the sound that his machine made. It was a skilled trade because it was his responsibility to maximise the number of uppers which could be cut from a piece of leather avoiding any thin areas.')
I love the pride you can hear in this note. How many companies these days would 'reduce their hands' rather than stoop to making the 'low price stuff now so much in demand'?
Okay, so maybe that's folly: ignoring what's in demand could well be a quick route to bankruptcy. It also means poor fellows like Albert Iles end up out of work.
But even so, there's a sense of principle in this note that you can't ignore. Even indignation. And you can't help but imagine the possible stories behind it.
There must have been all manner of difficult decisions being made at Milward & Sons, as the commercial pressure intensified to cut corners and prices.
Did Old Man Milward dig his heels in against the entreaties of his offspring, who tried desperately to make him see sense, and start churning out cheaper footwear? Or was the family united in their defence of quality, even if it meant their business would shrink?
Was the rot terminal? Did they go down with their ship, drowned in an unstoppable tide of cheap-and-cheerful boots and shoes? Or did they perhaps win through, gaining admiring new customers among the well-heeled (in every sense)?
Who knows? I tried to find a record of Milward & Sons online, but no luck. Something happened to the business, as things usually do, and apparently it is no more.
But as someone who spends a good part of his career trying to help businesses pinpoint, and articulate, what makes them tick, I can only admire the clarity of vision, and the sheer bloody-minded determination, expressed in this brief burst of writing.
It also shows that one can write a crystal-clear expression of corporate belief, commitment and principle, without that bloody word 'passion' appearing anywhere in it.
Here's to you, Milward & Sons. And to Albert Iles, Clicker: let's hope the note did the job for him too.
~ Alistair is raising money for Cancer Research UK during his ride - please wander over to his Just Giving page and donate a little cash. ~
posted: 2 September 2011
categories:
Ephemera