London in Bits interview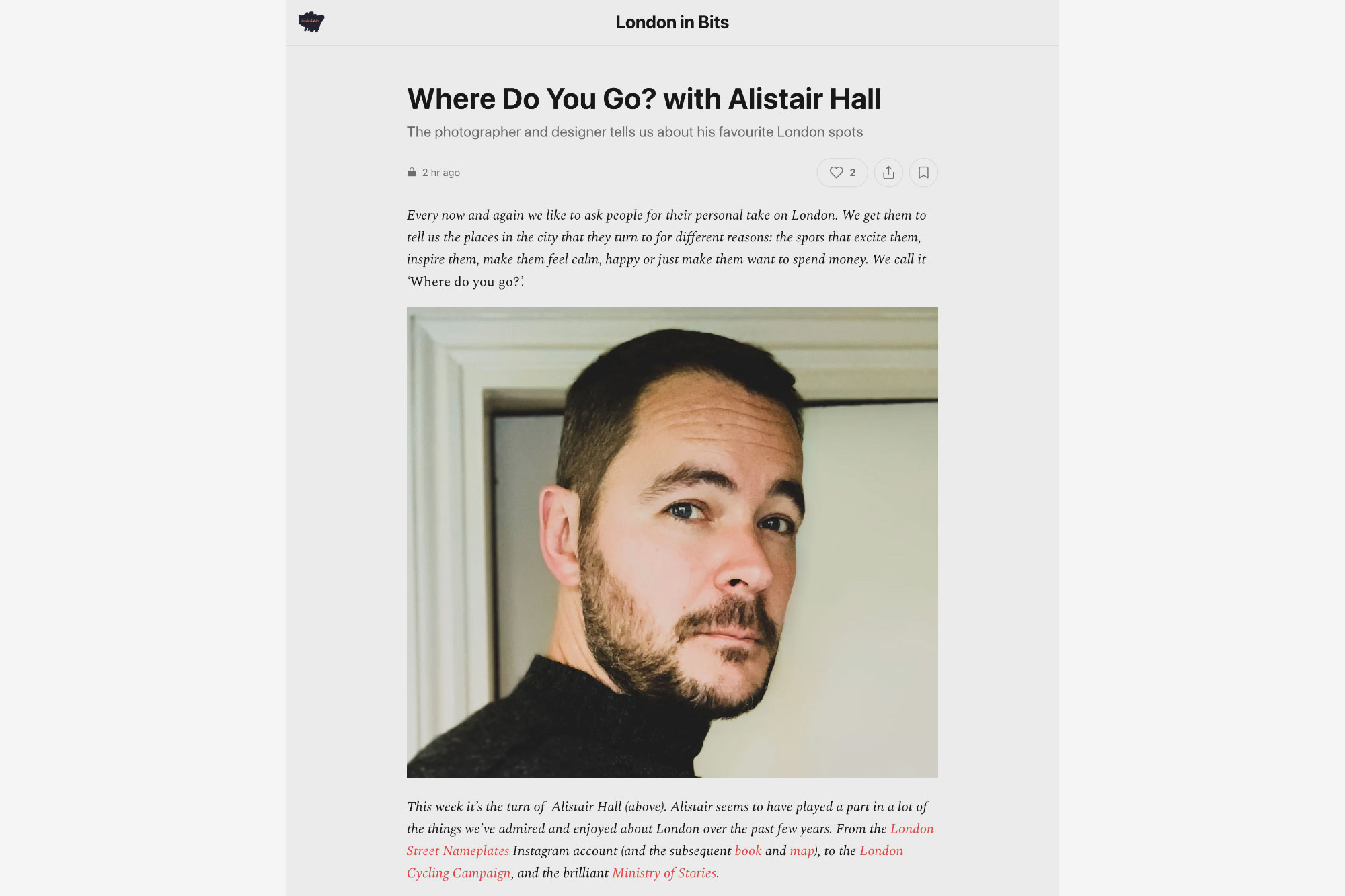 London in Bits is a brilliant newsletter all about London, published three times a week by Rob Hinchcliffe:
"Our aim with this newsletter is to bring you both the beautiful and the infuriating parts of the capital. The headlines and the hyperlocal. The obvious and the underserved. And to wrap all of that up into something that's interesting, funny, surprising and worthy of your inbox."
It's really good, and definitely worth subscribing. Rob asked me to answer a few questions as part of a regular feature, Where Do You Go?
The interview is only available to subscribers, but he's very kindly allowed me to duplicate it here.
––––––––––––––
Where Do You Go? with Alistair Hall
The photographer and designer tells us about his favourite London spots
Every now and again we like to ask people for their personal take on London. We get them to tell us the places in the city that they turn to for different reasons: the spots that excite them, inspire them, make them feel calm, happy or just make them want to spend money. We call it 'Where Do You Go?'.
This week it's the turn of Alistair Hall (above). Alistair seems to have played a part in a lot of the things we've admired and enjoyed about London over the past few years. From the London Street Nameplates Instagram account (and the subsequent book and map), to the London Cycling Campaign, and the brilliant Ministry of Stories.
In his Q&A Alistair tell us about his love of ephemera, the club night he can't live without, the library that inspires him and why his local park is "London's best open space".
Who are you?
Alistair Hall. I'm a graphic designer, photographer, cyclist and lecturer.
And why should we trust you?
I've lived in London my whole life, growing up in Twickenham, before moving to Brixton in 1996. I wrote the book London Street Signs, so I've walked and cycled around a fairly large portion of the city. I've also been writing about design and culture on the blog of my graphic design studio, We Made This, since 2006.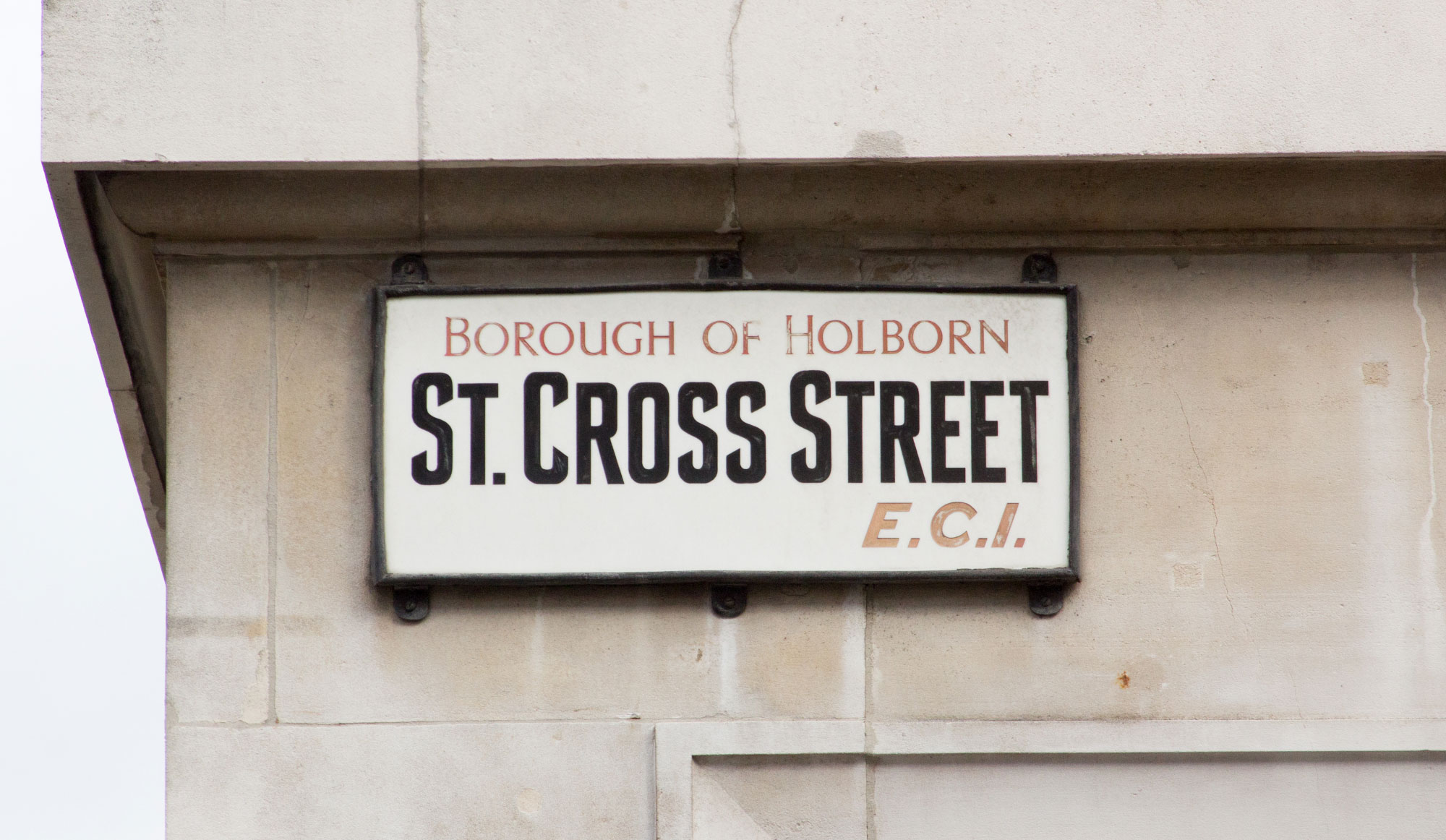 The Street Signs book is one of those examples of subjects that shouldn't be so fascinating becoming very fascinating and even beautiful the closer you look. Where did the fascination start and were you always confident you could create something that other people would be interested in or was it a bit of an act of faith?
Ah, thanks for the kind words! I was lucky enough be taught by two brilliant typographers, Catherine Dixon and Phil Baines, on the graphic design degree at Central Saint Martins, back when it was based on Southampton Row in Holborn. They took us out on fantastic Public Lettering walks around London, showcasing some of the very best examples of lettering on buildings. That really started my passion for lettering in the environment, and I've been photographing signs and lettering ever since then.
In 2016 I moved into a new design studio on Saint Cross Street, just off Hatton Garden. It's not a long road, but it has several rather beautiful street nameplates along its length. One of them (above) used a style of lettering that I realised I'd only ever seen on signs, and never in print. That got me really intrigued about the history of the signs. After a bit of research, it became clear that London has a unique variety of wonderful street nameplates, and that no-one had documented them in depth before. So I figured, hey, why not do it myself?
I used Flickr – particularly the brilliant London Street Names Flickr group – Instagram, and general web research to put together a Google map of signs that looked promising. I'd select a cluster to visit on any given day, and then head out to photograph them, often finding many other fascinating ones as I wandered between them.
Oddly, I felt fairly confident right from the outset that I could put a half-decent book together. Whether or not there'd be an audience for it was a bit less certain! So I created an Instagram feed, London Street Nameplates, to document the signs I was photographing, as well as my research. The feed got featured in a bunch of places, including The Guardian, which generated a load of new followers – many of whom suggested nameplates I should check out. So when I approached publishers I had at least a bit of evidence that there was an audience for the topic.
It still feels weird to have become the guy who did the book about the street signs. But everyone needs a hobby right?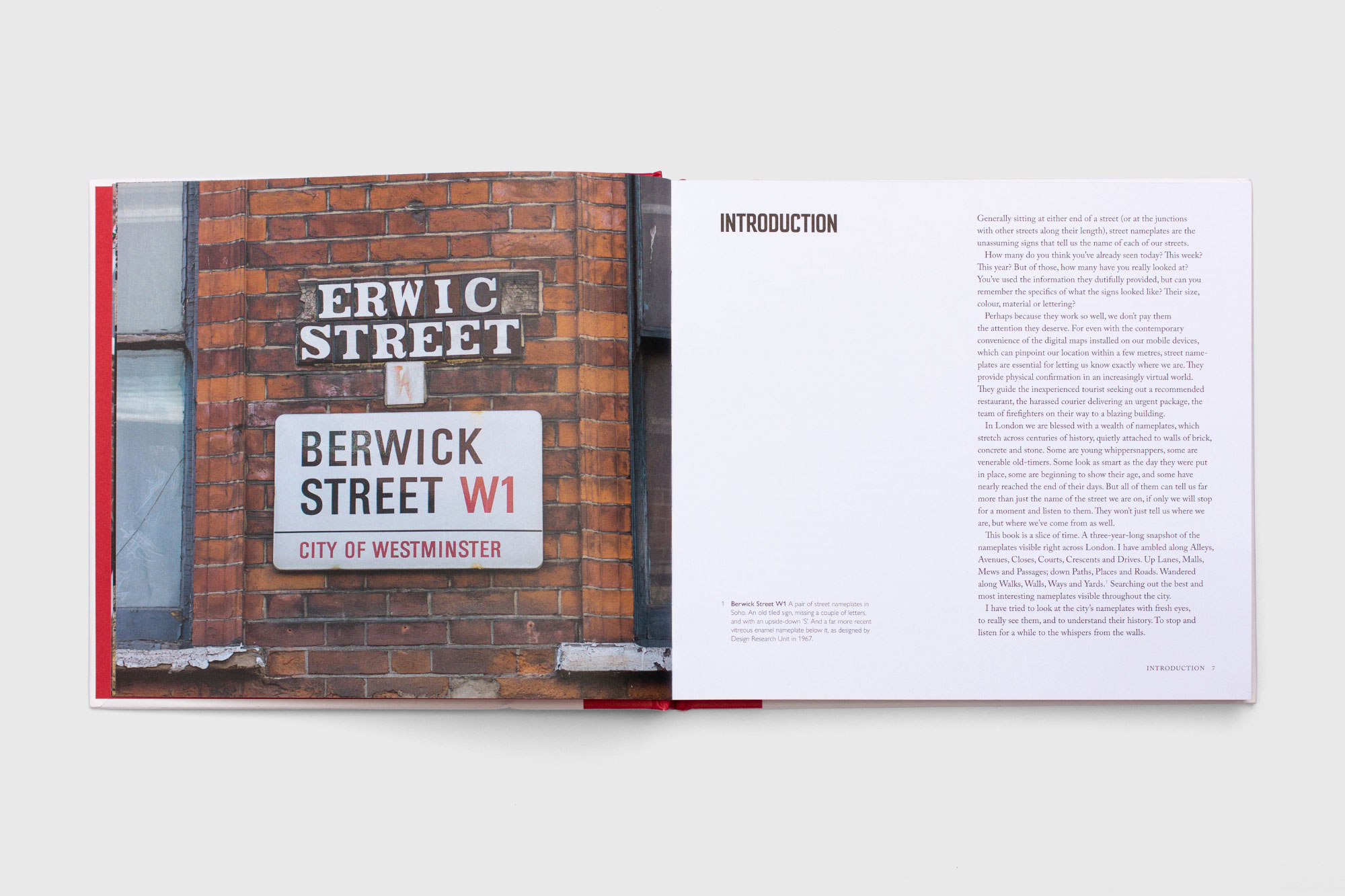 How long did it take you to put the street signs map together and what was your process for choosing what to include and what to leave out? Did you have to kill some darlings?
Aw man, it was really hard deciding what to include and what to leave out! The map features 50 signs, and I've photographed more than 3,000 – so it's a pretty hardcore edit. I knew I'd have to leave out many of the ones on the outskirts, or the area the map covered would have been too big, and would have lacked detail.
I wanted to make sure that I covered a wide chronological spread, as well as showing as many different sign types as possible, so it was really a case of picking the very best examples of each, which helped to narrow things down. Then Derek and his team at Blue Crow Media did a fantastic job of designing the map – it looks gorgeous!
Do you still spot interesting street signs that you haven't come across before, or have you collected them all by this point?
I'm still adding to the Google map I made of nameplates to photograph. I reckon there are a couple of hundred or so that I still want to visit, and of those maybe fifty or so are potentially really interesting. And of course signs go up, signs come down, and some get revealed by building work, or even when people prune a bush or tree! Both the map and the book are just snapshots of a moment in the city's history.
In your role as a graphic designer you've done quite a bit of work for the London Cycling Campaign. We're assuming you're a cyclist yourself? How do you feel about the state of cycling in London right now? Are you optimistic?
Yup indeed, I love getting out on my bike. It's a Surly Crosscheck from the lovely folks at Brixton Cycles – it took me from Land's End to John o' Groats back in 2011.
I think things have improved vastly for cyclists in London in recent years – I definitely feel safer cycling around the city these days. London Cycling Campaign, both the organisation and all the volunteers, are a big part of that. If you cycle in London and aren't a member already, join LCC right now!
There are lots of great bits of cycling infrastructure but they're often let down by the gaps between them. Some councils do great stuff, others really drag their heels. And TfL's parlous financial state isn't helping. But I think the climate crisis means that getting more people out of cars and onto bikes is essential, and better cycling infrastructure is key to that. So I guess I'm cautiously optimistic that cycling in the city will get better and better. I was thinking the other day about how London used to be a city of horses, and if you'd told people then that one day there'd be almost no horses at all, they would have laughed in your face. So who knows, maybe cars will go the same way…
Tell us about Ministry of Stories (and Hoxton Street Monster Supplies). How did you manage to keep things going through lockdown and what have you go planned for the rest of 2022?
So the Ministry of Stories is based on Hoxton Street in Hackney, and is a writing and tutoring centre for local children and young people. The thing that makes it a bit extra special is that it's hidden behind a secret door in a shop, Hoxton Street Monster Supplies, Purveyor of Quality Goods for Monsters of Every Kind. The shop sells bespoke and everyday items for the Living, Dead and Undead – things like tins of fear; jars of Old Fashioned Brain Jam and Thickest Human Snot; Zombie Fresh Mints and Fang Floss. Of course, humans are allowed in the shop as well, as long as they behave, and profits from the shop help to fund the Ministry.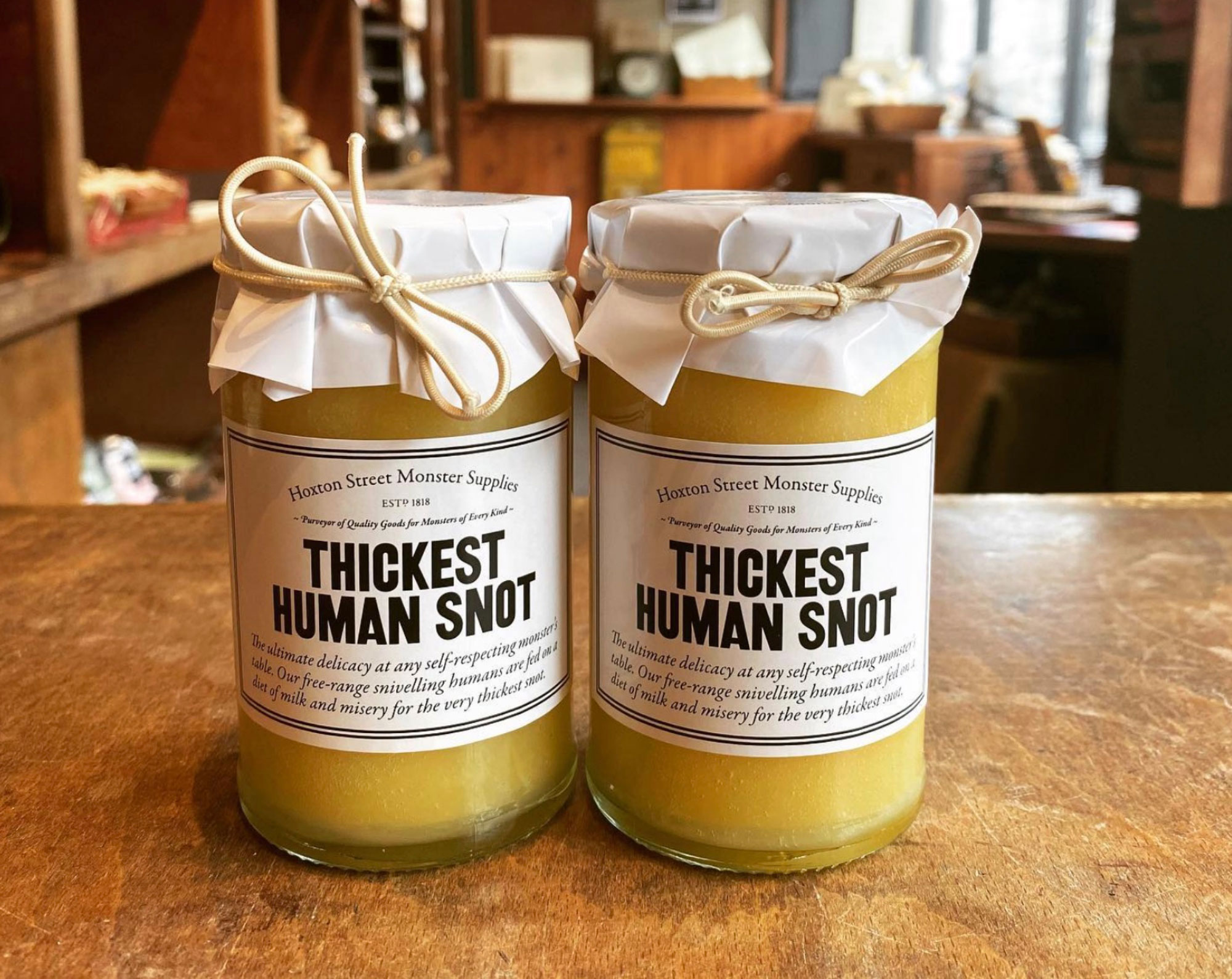 We set it up in 2010 (you can read all about it here) and it's gone from strength to strength. The team at the Ministry did some incredible work to move all the writing labs online during the lockdowns, but I know they're deeply glad to be back in person. There's a whole heap of exciting stuff coming up there. Some of the 11-15 year old writers have created an Escape Room, which will run across the summer for families in the local community. Then Autumn will be all about comedy writing – one-liners, sketch comedy, stand up, satire – all headed towards a showcase at Curzon Hoxton in January. Sign up to the newsletter on the Ministry website to stay up to date on all that, or follow Ministry of Stories on Twitter and Facebook.
For Hoxton Street Monster Supplies the thing I'm most excited about is a brilliant new pop-up shop that we're opening in Leadenhall Market during October and November. We're developing a stack of exciting new products for that, and hopefully a few special events! Sign up to the newsletter on the Monster Supplies site to find out more, or follow @MonsterSupplies on Twitter and Instagram.
Right, on to the usual questions... Where do you go to have a great time?
The Cock Tavern in Kennington. It's the sort of place you run into all your mates, make some new ones, and stumble out of at two in the morning. Perfect.
Where do you go and always end up spending too much money?
Erm, probably The Cock to be honest. But in order to sound just a bit more highbrow than that… The Ephemera Society runs regular fairs, and it's alarmingly easy to spend money at those. Ephemera is printed stuff that on the face of it might not be worth much – tickets, postcards, maps, leaflets, that kind of stuff. But for graphic designers it's like treasure. The society's fairs take place in Holborn a few times a year, and you can buy stacks of lovely stuff. Other than that, I do love Labour and Wait.
Where do you go that can never close down, because if it does you might cry?
Well now, I used to go to Duckie, but they *have* just closed it down, which is deeply sad. It was a unique and brilliant LGBTQ+ club night at the Royal Vauxhall Tavern, which ran for around 25 years. It was hosted by the incredible Amy Lamé (above, right), who you might know from BBC 6 Music, or also as London's Night Czar. The DJs were the incomparable Readers Wifes, who played an intoxicating mix of pop, rock and punk. It was anarchic, arty, drunken, chaotic fun, and I'm going to miss it hugely.
BUT! They recently announced they're being reborn at the Eagle, just around the corner, for Saturday afternoon Electric Tea Dances. Duckie is dead. Long live Duckie!
Where do you go if you want to switch off?
The Ritzy in Brixton. It's my local cinema, and an institution, though it's been through troubled times since Picturehouse Cinemas were bought by Cineworld. I haven't really got back into cinema going since lockdown, but I'm definitely ready.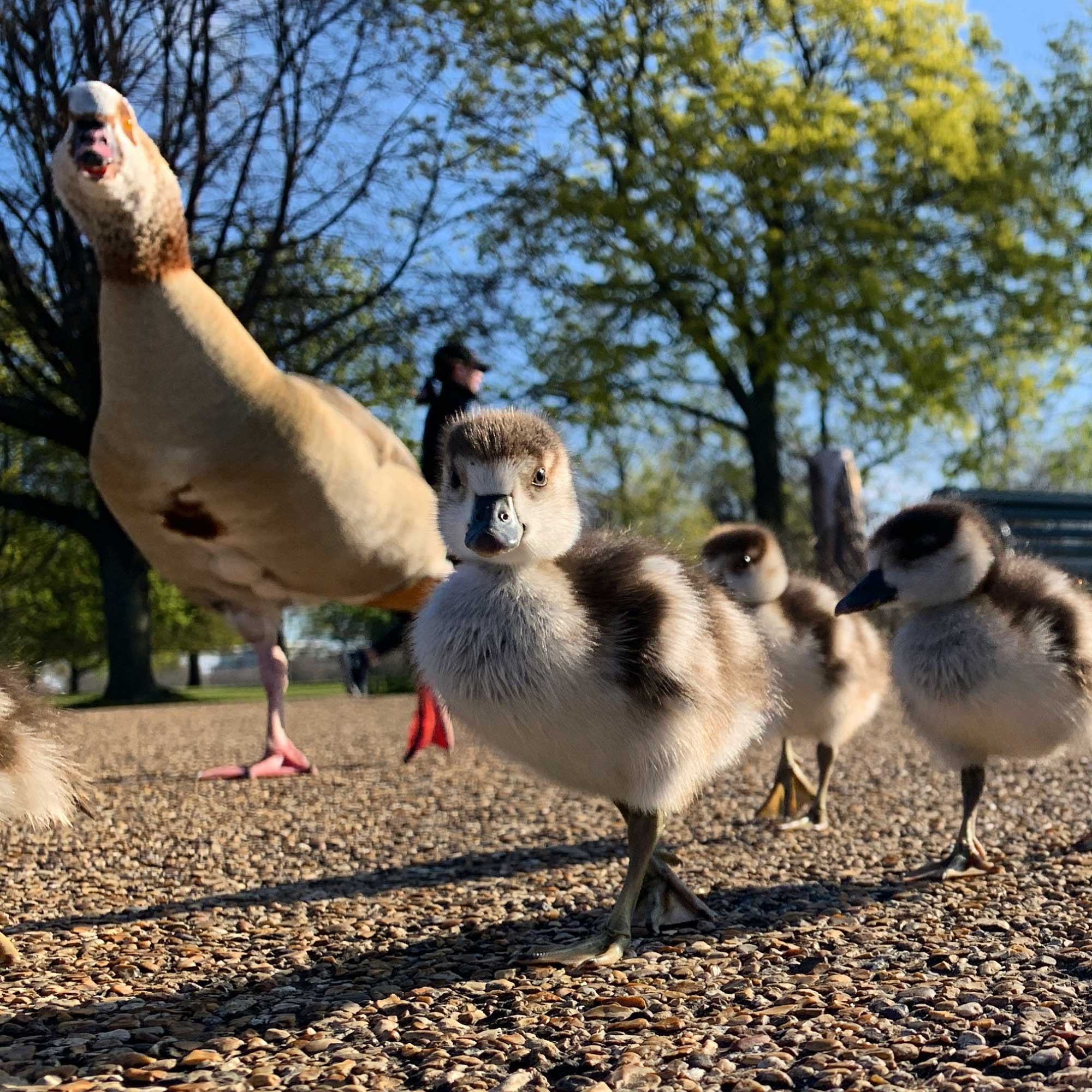 Where do you go to be alone?
Hmmm. I got a dog recently, so most mornings I'm walking him – but before that I used to cycle early each morning from Brixton, across Clapham Common, through Battersea Park, up to Knightsbridge and into Hyde Park. I'd often pass the Household Cavalry Mounted Regiment out on exercises along South Carriage Drive. I'd stop to feed the swans and grab a coffee by the Serpentine Lido, (above) watching as the swimmers plunged in for their morning dip. It was a remarkably magical time. It felt like a ridiculous privilege. And entirely free (well, except for the coffee).
Where do you go that's within walking distance of your house?
Brockwell Park, one of London's very best open spaces. Actually, screw it – London's best open space. It's a real local gem, a beautiful park with outstanding civic amenities – a BMX track, tennis courts, ponds, an ornamental garden, a bowling green (though that's in a sorry state of repair at the moment), and the lido! I'm incredibly lucky to live so close to it.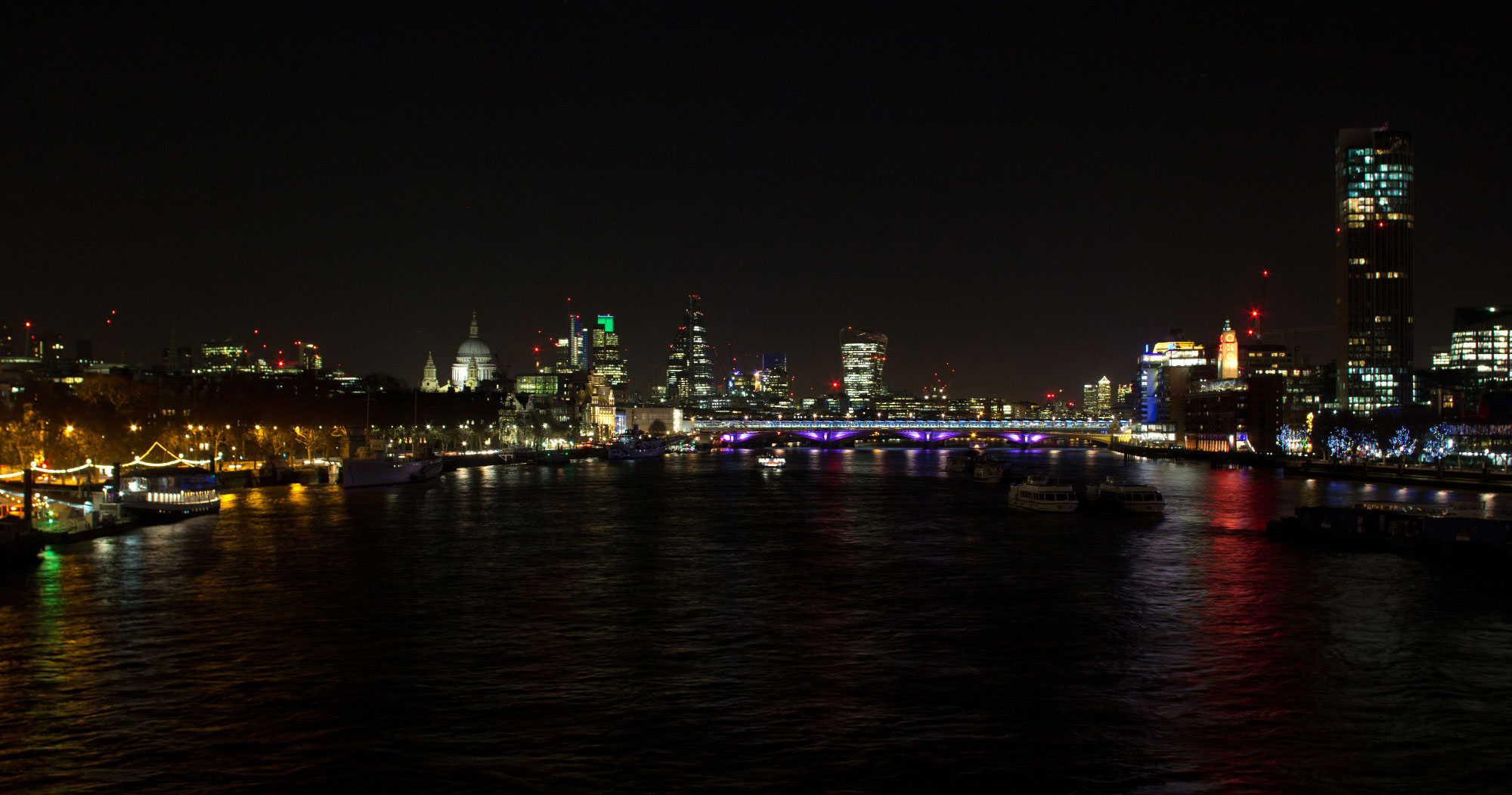 Where do you go to be romantic?
About half way along the east side of Waterloo Bridge. Best view in town (above).
Where do you go to get inspired?
The St Bride Library. It's a fantastic library just off Fleet Street, with an unparalleled collection of books and objects related to printing, typography, and graphic design. It also hosts a fantastic lineup of talks on the same subjects.
You can follow Alistair on Instagram here. And on Twitter here.
posted: 20 July 2022
categories:
Blogs